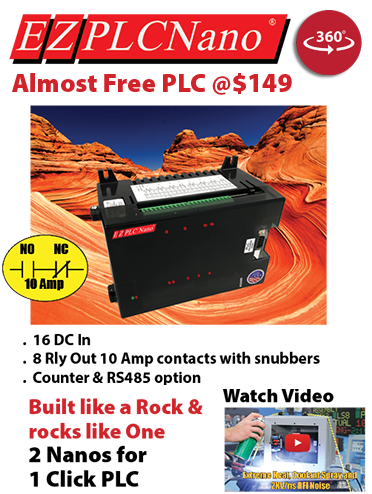 EZPLC Nano Starter Kit
15 High-end Features, Made in America, Sold Factory Direct.
INCREDIBLE SOFTWARE@ $69... Huge up to 80% Savings!!
List of Innovative Features
Runtime Edit on entire PLC family
Most compact Highest Processing power per cubic inch.
Easiest Drag-n-Drop programming software, bar none!
High-end functionality of 55 powerful instructions
32 bit floating point math and logic
Status LED for each I/O next to each terminal
Removable plug-in terminal blocks
Flash memory for program back-up
2 of Nano for 1 Click, 5 of Nano for 1 of DL06
Drum Sequencer, and send to marquee instruction
Same functionality and software across on all EZPLCs
Password Protection
20 KHz High speed counter option
Send to Marquee instructions
HALT/HASS rated for space-age quality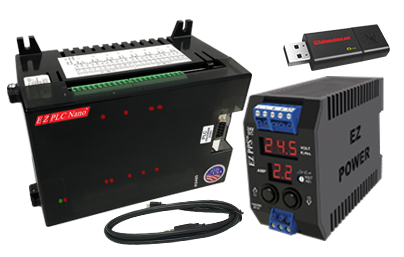 Add To Cart
$319 value
at
only $229
You Save:$90
Starter Kit Includes:
» EZPLC Nano with counter
» 60W EZ Digital Power Supply
» Programming Cable
» Programming Software

The Starter Kit includes the EZPLC Nano, Cables, and a 60W Digital DIN Mount Power Supply and Programming Software

Besides, you have a
30 day money back guarantee!
So what have you got to lose?
We are sure you will be pleased
99.99% are!