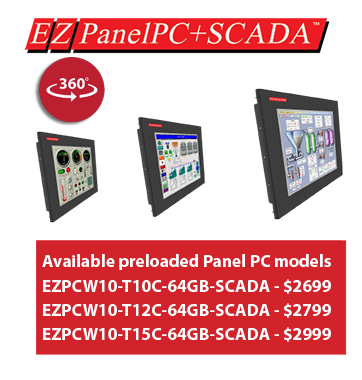 PanelPC + SCADA Starter Kit
Saves Hrs/Days of Loading, Configuring and Testing software
List of Innovative Features
View Video, Power Point, and Excel
Printer drivers, All Windows drivers
Intel Celeron J1900/quad core/2.0 GHz processor
4GB RAM , 16.2 M colors
2 USB ports(1 USB 2.0, 1 USB 3.0)
2 Ethernet ports
2 RS232 port, 1 RS485 port
1 VGA port, 1 HDMI port, 1 Audio In, 1 Audio Out
Patented HMI on-line edit, No downtime
EZ mini Wifi to program/edit HMI without cable
Dual PLC Drivers with automatic tag conversion.
"C level" scripting and logic expressions.
EZSoftHMI or EZSCADA preloaded
EZiest Program Software, design time in hrs not days.
and the list goes on...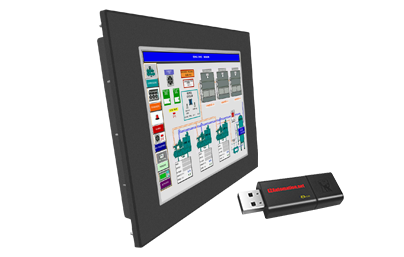 Add To Cart
$3898 value
at
only $2499
You Save:$1399
Starter Kit Includes:
» 15" 64GB Panel PC with SCADA
» Development Software

The Starter Kit include 15" 64GB Panel PC with SCADA, Development Software and 120W Power Supply.

Besides you have
30 day money back guarantee!
So what have you got to lose?
We are sure you will be pleased
99.99% do!