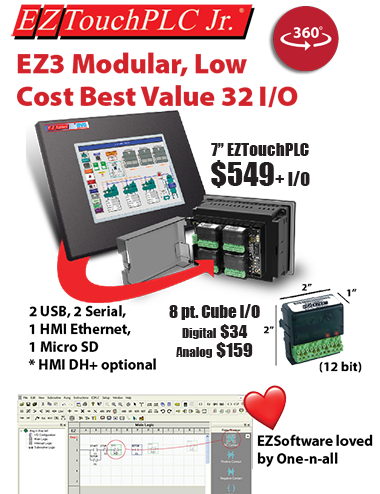 EZ3TouchPLC Jr. Starter Kit
30+ Exceptionally Innovative Unique Features. Lasts twice as long: NEMA 4X, 400 nits, 75KHrs@55°C
List of Innovative Features
The only All-in-One fully modular PLC & HMI up to 64 I/O
Highest, Fastest Processing power per cubic inch.
Top class Data-logging.
Easiest Integrated HMI and PLC Drag-n-Drop PLC
Programming software, common to all models, just $149
Advanced functionalities, PID, Math, High Speed counters, PWM, even in Fastest Processing time
Status LED for each I/O in every model.
Patented HMI on-line edit, No downtime
At least 2 for 1 for Unitronics & Maple HMI + PLC, and C-more/Do-more products
Incredibly condensed, 31 different combo plug-in I/O modules... and the list goes on ...
The Starter Kit includes 7" EZ3 HMI + EZPLC Jr Combo, 4 DC Inputs & 4 DC Outputs I/O module, Programming Software, Cables, and a 60W Digital DIN Mount Power Supply and miniWifi that allows programming through your laptop without connecting any cable.

Besides, you have a
30 day money back guarantee!
So what have you got to lose?
We are sure you will be pleased
99.99% are!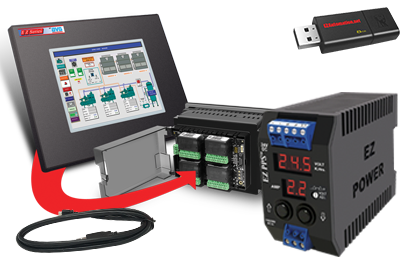 Add To Cart
$844 value
at
only $649
You Save:$195
Starter Kit Includes:
» 7" EZ3 HMI + EZPLC Jr. Combo » 4 DC Inputs & 4 DC Outputs I/O module
» 60W EZ Digital Power Supply
» EZminiWifi
» Programming Cable
» Programming Software