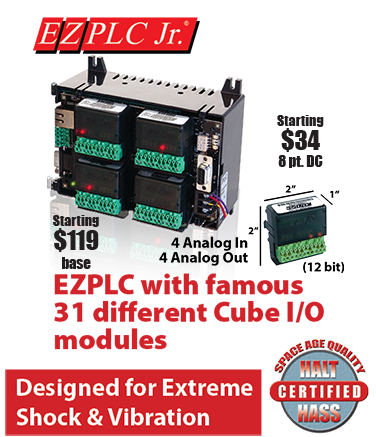 EZPLC Jr. Starter Kit
21 Exceptionally Innovative Features, not found anywhere else in this category. Cube I/O, 8 12 bit Analog 2"x2"x1" cube, Incredibly Flexible
List of Innovative Features
Most compact Highest Processing power per cubic inch.
Selection of 31 plug-in mix-n-match Cube I/O modules.
Easiest Drag-n-Drop programming software, bar none!
Extremely efficient free flow logic cuts down number of rungs at least by two
High-end functionality of 55 powerful instructions
32 bit floating point math and logic
8 PID loops and unique PID monitor
Status LED for each I/O next to each terminal
Removable plug-in terminal blocks
and the list goes on...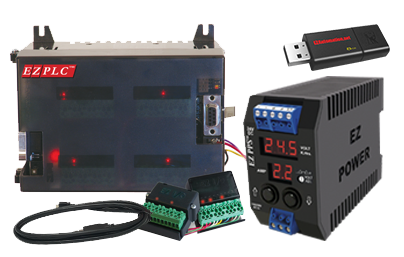 Add To Cart
$308 value
at
only $229
You Save:$79
Starter Kit Includes:
» DC Power EZPLC Jr.
» 4 DC Inputs & 4 DC Outputs I/O module
» 60W EZ Digital Power Supply
» Programming Cable
» Programming Software

The Starter Kit includes the EZPLC Jr. 4 Base, Cables, 4 DC Inputs & 4 DC Outputs I/O module and a 60W Digital DIN Mount Power Supply and Programming Software

Besides, you have a
30 day money back guarantee!
So what have you got to lose?
We are sure you will be pleased
99.99% are!