An Engineering Marvel !
3.5" or 6" TFT Display
400 Nits, 75KHrs@55°C, NEMA 4X
12 Digital Inputs, 8 Digital Outputs
4 - 5 Amp 1 form C Relays
2 Analog Inputs, 1 Analog Output
250 KHz Quadratue Encoder Input
Integrated Drag-n-Drop Ladder Logic Software
55 High-end Instruction set
Patented Online-edit
On Screen Recipe Edit
Datalogging
Plug-in Terminal blocks
Status LED for each I/O
5 Amp contacts with Snubbers
Flyback diode on DCO
Very low profile 5" x 4" x 2" deep
Ethernet option and the list goes on...
Here's why you should consider buying an EZTouchminiPLC Starter Kit for your New Application!!
Additional Savings,
Free Software
30-day Money back Guarantee
The Starter Kit includes
4" or 6" EZTouchminiPLC
Programming Software
Cables
60W Digital Power Supply
EZminiWifi
4" EZTouchminiPLC
Starter Kit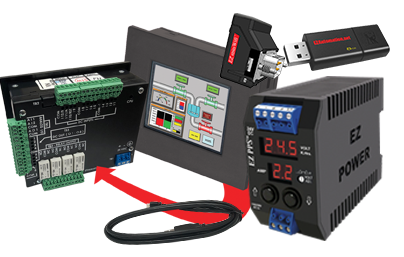 # EZ-T4C-miniPLC-SK
List Price $615
Discounted @ $599
Add To Cart
6" EZTouchminiPLC
Starter Kit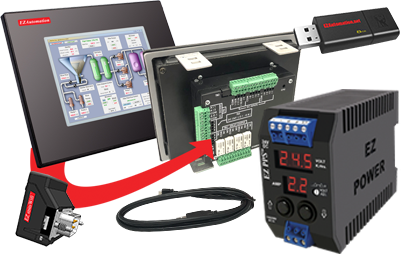 # EZ-T6C-miniPLC-SK
List Price $765
Discounted @ $699
Add To Cart