Best HMI Award Winner of 2019 by 100K+ Control Engineering Readers

The Detachable HMI Marvel:
Removable Front
Detachable metal front having Display+Touchscreen
NEMA 4/4X, Class I DIV II
No cut-out, just 3/4" hole for HDMI cable
Upgrade display from any to any size
400 nits, 75K hrs. @ 55°C
Patented HMI on-line edit, No downtime
EZ mini Wifi to edit HMI without cable
On-Screen Recipe Edit.
Dual PLC Drivers with automatic tag conversion.
Only HMI that can still talk to AB's DH+
"C level" scripting and logic expressions.
EZiest Program Software, design time in hrs not days. and the list goes on...
Here's why you should consider buying an
EZ7 HMI Starter Kit for your New Application!!
Additional Savings,
Free Software
30-day Money back Gurantee
The Starter Kit includes
7" or 12" EZ7 Detachable Front
Programming Software
Cables
60W Digital Power Supply
EZminiWifi
7" EZTouchminiPLC
Starter Kit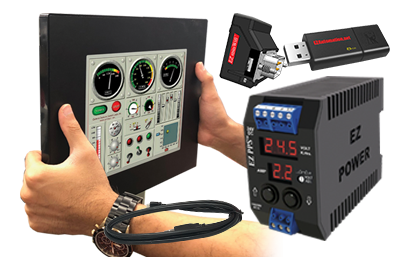 # EZ7DT-T7C-E-SK
List Price $915
Discounted @ $699
Add To Cart
12" EZTouchminiPLC
Starter Kit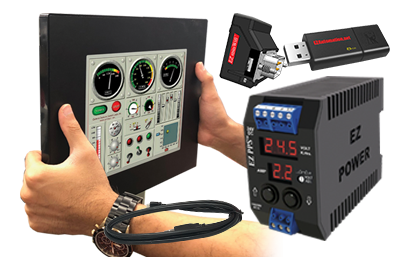 # EZ7DT-T12C-E-SK
List Price $1315
Discounted @ $999
Add To Cart