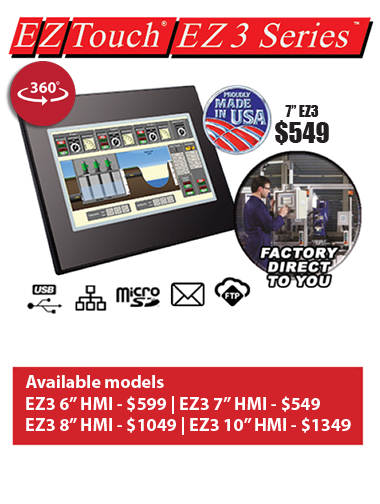 EZ3 HMI Starter Kit
23 Exceptionally Innovative Features. Lasts twice as long: NEMA 4X, 400 nits, 75KHrs@55°C
List of Innovative Features
400 nits, 75K hrs. @ 55°C
Patented HMI on-line edit, No downtime
On-Screen Recipe Edit.
Dual PLC Drivers with automatic tag conversion.
Only HMI that can still talk to AB's DH+
"C level" scripting and logic expressions.
EZiest Program Software, design time in hrs not days.
Upload HMI program from USB without software/cable
Fastest touch response time of any HMI.
Best looking objects and animation with 65K colors.
Every model Fully Loaded, No "R" Reduced Features models and the list goes on...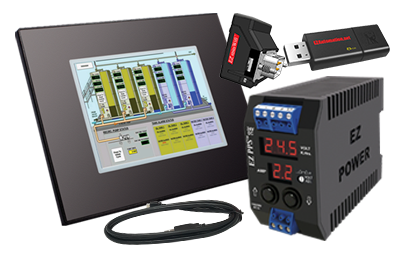 Add To Cart
$745 value
at
only $549
You Save:$196
Starter Kit Includes:
» 7" EZ3 HMI
» 60W EZ Digital Power Supply
» EZminiWifi
» Programming Cable
» Programming Software

The Starter Kit includes 7" EZ3 HMI, Programming Software, Cables, and a 60W Digital DIN Mount Power Supply and MiniWifi that allows programming through your laptop without connecting any cable.

Besides, you have a
30 day money back guarantee!
So what have you got to lose?
We are sure you will be pleased
99.99% are!